Record red catches in 2022 affecting all salmon sales
Urner Barry Seafood Market Reporter Josh Bickert provides an analysis titled: Frozen Sockeye Prices Continue to Retreat Ahead of the New Season
May 16, 2023
The massive record-breaking sockeye season from 2022 continues to have a major impact across the entire salmon complex. 
The most immediate is the general weakening on frozen sockeye. With the upcoming season about a month away, there is pressure to move through older inventories. Many market participants report heavy discounting among some sellers to incentivize sales and keep things moving. 
Sockeye 2-3 lb. frozen fillets at the start of 2023 were at an average price of about $9.25/lb. Prices started to fall at the beginning of February and continue to do so. Pricing is currently at $7.75, down 16.2% in only three months.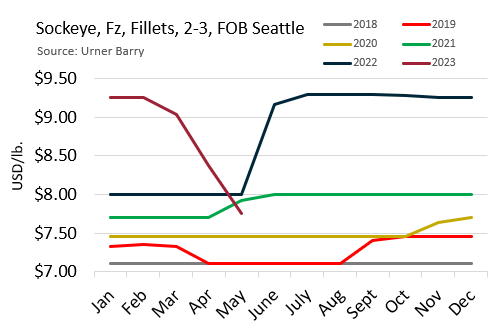 While overall the complex is softening, it is noted that the undertone is somewhat unsettled with both higher and lower offers collected and sales strategies varying from seller to seller, much of the time dependent on individual inventory positions. Frozen H&G is seeing similar drops. For instance on 4-6 lb. it fell 24.2%
Some market relief comes from USDA purchases
The US Department of Agriculture (USDA) has agreed to purchase up to $119.5 million (€108.3 million) worth of Alaskan sockeye and groundfish, which will be distributed across the country through federal food assistance programs.
The buy comes at the urging of Alaska Senator Lisa Murkowski and Rep. Mary Peltola who urged the US Secretary of Agriculture in March to consider a request submitted by the Alaska Seafood Marketing Institute (ASMI) to increase the supply of seafood through USDA's Section 32 program.
Section 32 purchases are part of the Agricultural Adjustment Act which authorizes a percentage of customs receipts to be transferred to the Secretary of Agriculture to support prices of surplus domestic commodities. The foods are then distributed through various USDA programs, including schools, childcare programs, and food banks.
The purchases include up to $37.5 million for canned Alaska sockeye salmon, up to $30 million for Alaska sockeye fillets and up to $52 million for Pacific groundfish.